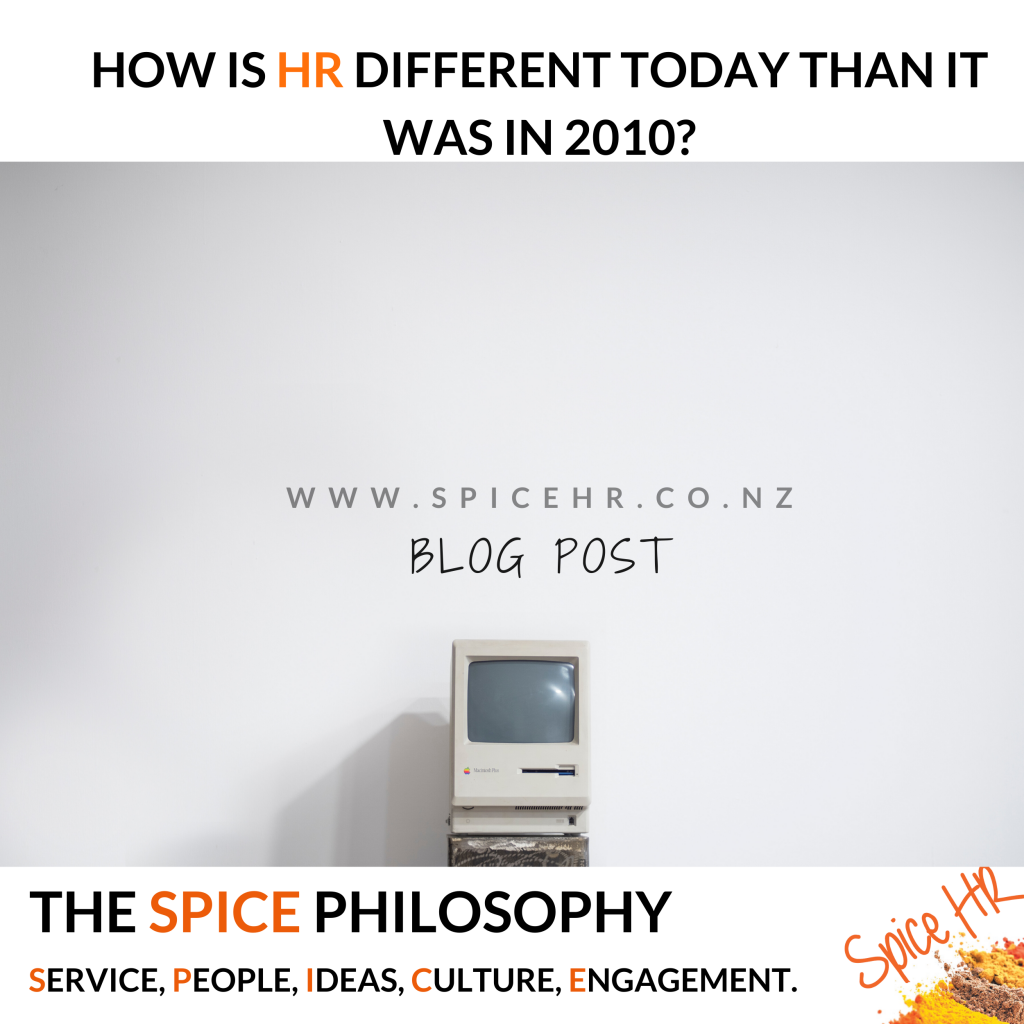 How Is HR Different Today Than It Was In 2010?
Let's ponder this: How is HR different today than it was a mere ten years ago. Even though it feels like the blink of an eye for many of us!
We have seen the meteoric rise of social media and the rapid advancement of technology. The millennials are well and truly grown up, and Generation Z is entering the workforce hot on their heels.
The way in which businesses manage and interact with their employees has had to transform to keep pace with this new culture. HR still deals with people, but the fundamental values and trends have evolved.
Let's look into the key differences in how the approach to HR has changed in the last ten years.
A More Individual Focus
A decade ago, employee benefits tended to be "one-size-fits-all,". But, this has given way to a more individualised and flexible style today.
Not every employee wants or needs the same perk: while one person might value daycare facilities and family health insurance, another might prefer a remote work schedule or training and development incentives.
Employers know they need to understand individual employees' needs if they want to earn their loyalty. So, they offer a more individualised approach to employee incentives.
More Informal Performance Reviews And Feedback
Performance reviews used to be a massive task that no one enjoyed. And they weren't overly effective.
Thankfully, the annual, formal (and let's face it, often tedious) performance review process is fading into obscurity. To replace it, companies are using a more flexible, frequent, and casual approach that values timely and useful performance-based conversations.
This allows both employer and employee to have open lines of communication, giving credit when it is due and addressing any issues as they arise – not 11 months down the track when they are no longer relevant!
The Rise Of The Gig Economy
In the days of the Boomer, the best way to get ahead in life was to stick with one company and work your way up the career ladder. You will see this less and less in the following generations. It is thanks, largely, to the rise of the gig economy.
Few people stay in one organisation for decades, and many even change fields several times throughout their working lives. Different experiences are more valuable to millennials than staying in one place for years.
HR has responded by providing remote positions or flexible work schedules – a trend that will only increase in the coming decade. To encourage employees to stick around longer rather than seeking new experiences elsewhere, businesses are providing purpose, variety, and growth opportunities within the existing job roles.
The Evolution Of "Culture Fit"
In the early 2010s, the buzz was all about culture fit: namely, how well an individual would slot into the company's culture. There is less of an emphasis on this now. Businesses are more interested in a general alignment of values and intention.
It's more about how a candidate can enhance a culture, rather than how they can fall in line with it.
A Focus On Employee Experience
Employee wellbeing is much more valued than it was ten years ago. Workplace wellbeing and employee wellness have a significant impact on productivity and profitability, which most organisations now recognise.
As technology makes it easier for us to communicate and work from anywhere, the lines between work and home have become increasingly blurred. This can lead to overwork, overwhelm and stress. Today's HR departments acknowledge this transition and encourage work-life balance in a variety of ways.
Employee engagement is prioritised, and HR strives to ensure that employees have a positive experience within the company – from the onboarding process onwards.
In such a fast-paced world, it can be hard to keep up, particularly as technology advances in leaps and bounds. "Bots" can replace people, and AI can facilitate work processes, but there is still a need for compassion, adaptability, and understanding in the modern workforce. This is obviously an area where Human Resources can continue to shine.
If you want to shine a light on your practices and move with the current HR trends, then get in touch with us here at Spice HR.