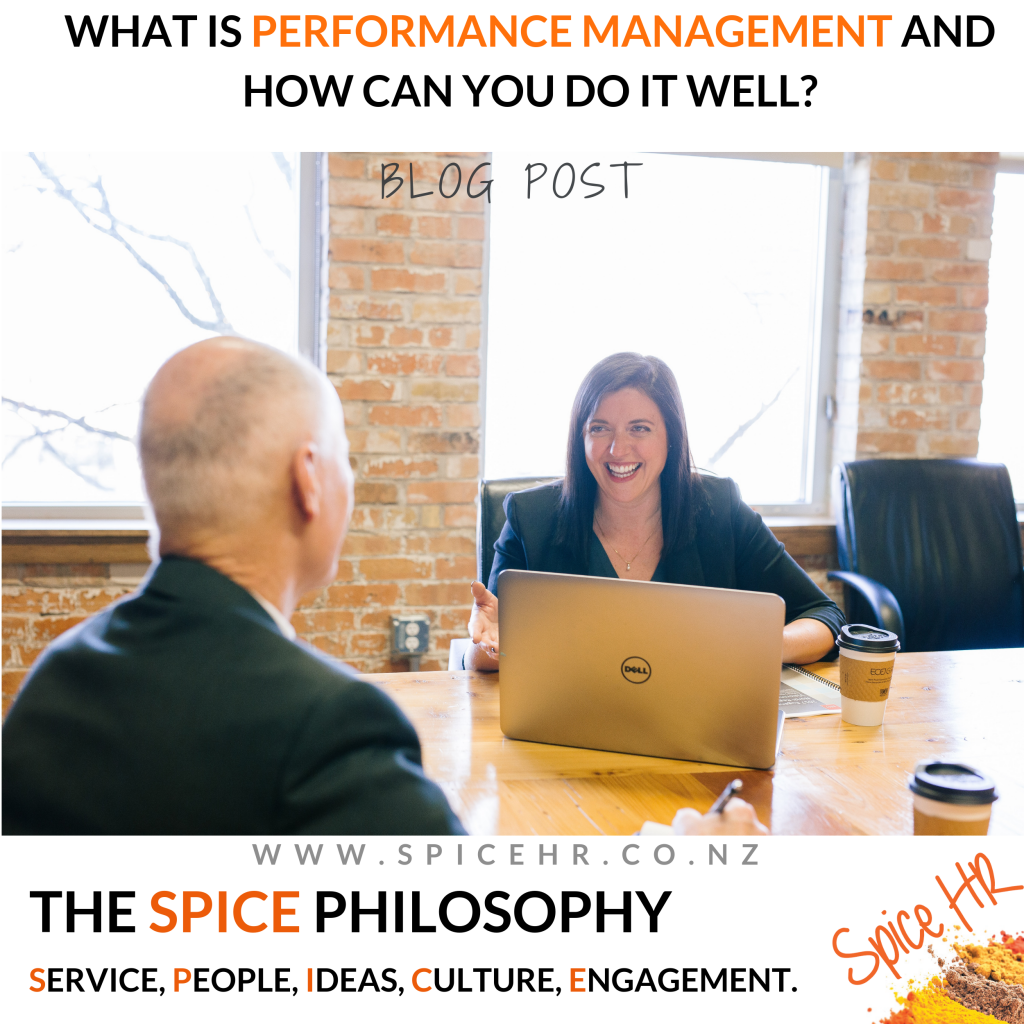 Managing the performance of your employees is one of the most essential and delicate aspects of running a successful business.
It is a little bit like adding the spice to a curry. Get it right, and you have got the perfect dish to keep everyone satisfied and powered-up. Get it wrong, and you are going to have a lot of unhappy people looking for somewhere else to eat!
While many managers find the concept of performance management intimidating, it's actually pretty straightforward. Being transparent, authentic, open and honest are the keys to success.
Let's have a look at some of the key ingredients for effective performance management.
What Is Performance Management?
Firstly, let's cover off the main question… what does effective performance management look like?
Many people make the mistake of assuming that performance management is the appraisal process. But it goes far deeper than that. In fact, effective performance management is actually about creating an environment in your workplace where your team are enabled to perform to the best of their abilities.
As you can imagine, a lot goes into creating that kind of environment. It is not something you can leave to happen on its own – to magically create a great environment without any input.
So, these are our best tips on how to create the kind of space that enables your team to perform to the best of their abilities… and to want to do it!
Clarity
Would you send an invite to a dinner party but fail to include the date, time, and location? Only if you didn't want someone to show up, right? The same goes for managing your staff. Be clear on what they are expected to achieve, how they should best go about it, and give specific deadlines.
A clear job description will help set the initial guidelines. That needs to be backed up by creating the right expectations on both sides of the relationship. Once your people know what is expected of them, they can really shine. It might help to set KPIs or goals in line with their abilities so they always have a target to strive for.
Follow-up
The days of formal annual performance reviews are fading away. Modern, effective managers are all about regular check-ins. They don't have to be formal, structured meetings all the time (though it does help to schedule some catch ups of this nature). The point is to meet on a regular basis. This coaching method lets you catch mistakes early on, identify if people are on the right track, and help them shift attention if necessary. It allows for on-the-spot, timely feedback, and saves everyone's time in the long run.
Feedback
While we all prefer to avoid or delay uncomfortable situations, managers need to give feedback promptly. Don't save up your input (whether positive or negative) for a formal review when it is no longer relevant. A good mentor and coach will make use of teaching moments, giving constructive feedback as and when needed. You will find employees appreciate honesty (when delivered in a helpful, appropriate way).
Managers should also be setting a good example by actively asking for feedback from their team.
Future-Focus
While not every discussion needs to be sunshine and rainbows, it is important to ensure feedback is focused on developing skills for the future, not dwelling on what has gone wrong in the past.
When things go well, you can talk about how to repeat and build on these successes.
When challenges arise, look at ways to avoid and improve on these in the future without placing blame. Perhaps the employee can be paired up with another team member, receive further training to upskill, or be given more resources in order to meet their future objectives.
Reward and Recognition
Perhaps the most crucial part of performance management is getting the reward and recognition part right. Your employees need to feel appreciated for the work they do. Sometimes, this can be as simple as a heartfelt, individualised thank you. Other times, it may need to be a bigger incentive.
Most importantly, ensure that your rewards are fair and effective. Keep in mind that this is not a "one-size-fits-all" process. Different things motivate different people. Expend some energy finding out what works best for every individual.
If you are looking to get some structure in place when it comes to performance management at your workplace, then we can certainly help you do that. Get in touch with us here at Spice HR to enable your team to perform at their very best.