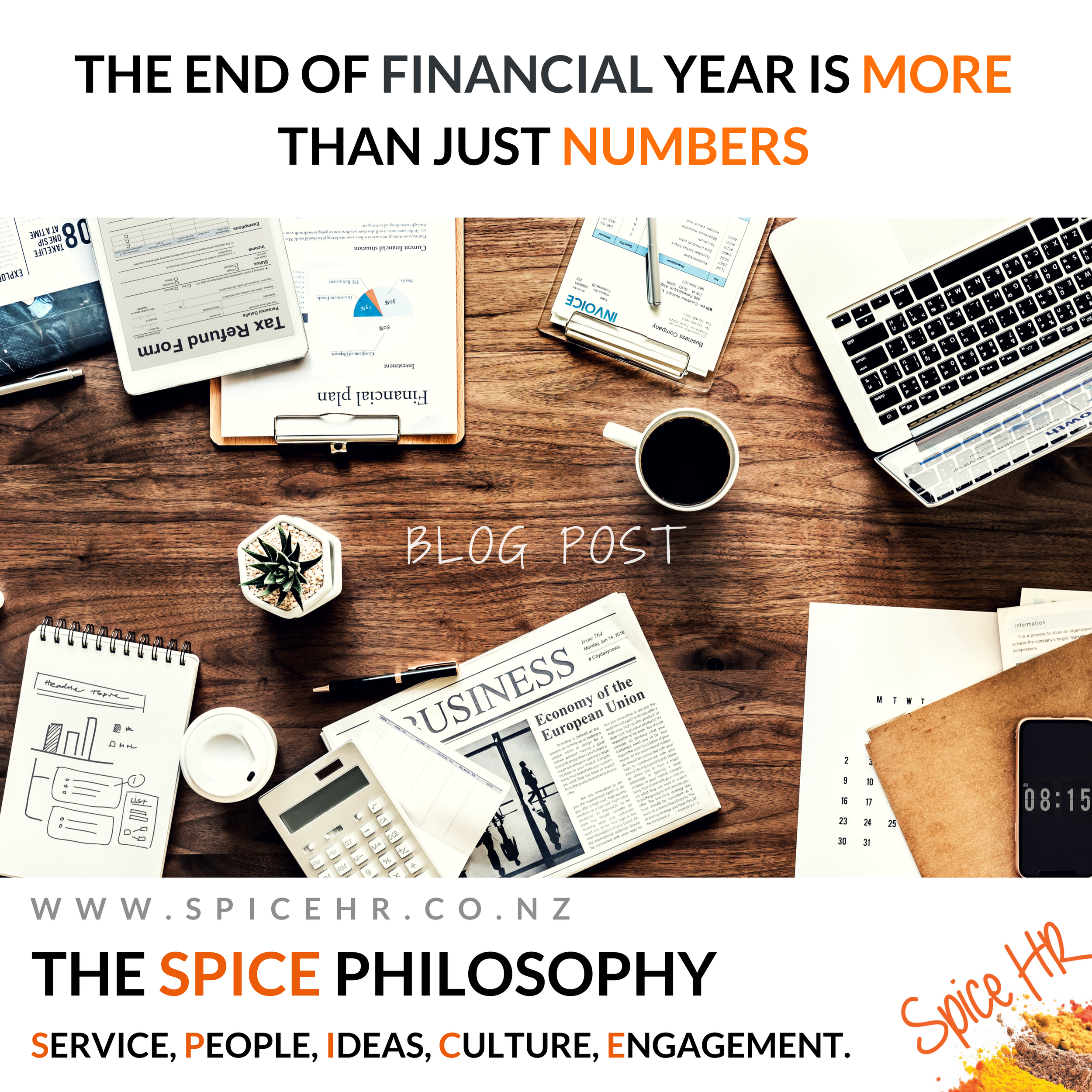 Normally when you hear the term end of financial year you think numbers. Well, that's after the groaning and stressing takes place. But it is actually so much more than that. It is a great opportunity to focus on the other areas of your business and set yourself up for a successful year ahead. Think goal setting, KPIs, having one on one sessions with key members of your team, and succession planning.
Let us help you paint a full picture for the end of financial year…
The Real End of Financial Year 
Goal Setting
The beginning of the year is always a time when people set goals. So why not do the same at the beginning of the financial year? You are through the awkward limbo of January when people are still in holiday mode and are well and truly into the swing of the work routine. You can be more realistic about what you might achieve this coming financial year.
You can of course set income goals for the business, but other kinds of goals too. Goals provide you with direction, motivation and a path to achieving what you want. So why not look at business growth, upskilling your team, developing a new product or service, or improving your internal systems.
Have One on Ones
When was the last time you sat down with each of your team members and had a one on one chat? We don't necessarily mean a performance appraisal conversation, just a discussion about their role within the business, how they are feeling, what ideas they've got and where you are heading as a business. Having a one on one conversation with your staff makes them feel like an important part of the team and is great for you as a Manager as well.
You can discuss the expectations of the business and how they relate to the employee's expectations. Find out their goals, if they are looking to progress and what opportunities your business can offer them. You can get them up to speed on your goals for the year – when everyone is working towards the same goals, you are far more likely to achieve them.
Most importantly, taking the time to meet with your team shows that you value them. Valued team members are more loyal, more productive and happier in their work.
Setting Key Performance Indicators (KPIs)
Before you start talking with your team members individually, it can be a great idea to set your business KPIs for the next financial year. Then, as part of the one on one discussions you have with your team members, you can set individual KPIs that fall in line with the overall plan for your business.
Put simply, KPIs help to determine the effectiveness of the functions and processes you are using to achieve your overall business goals. They can act as a compass that always points you in the direction of success. When setting team and company KPIs, it is important to choose indicators that are relevant to your team members, their role and focus and your overall business plan.
KPIs can be assigned on an individual basis depending on the responsibilities that each employee has. They can also be assigned on a team or department basis to ensure each team has the right thing to focus on. Then, you have company-wide KPIs that drive the whole business to achieve the goals you set out.
Skills Matrix
When considering your KPIs and One on One discussions, it is important to take note of the Skills Matrix within your business.
Not sure what your skills matrix is? Let us explain. It is a table that illustrates the individual skills that the members of your team possess. It helps you to understand the range of skills you have available in your team, the skills that each role requires and the areas in which you need to develop your team. Using your skills matrix, you can match up the skills required for each role with the skills of your employees and identify any gaps between the two.
The end of financial year is a great time to review your skills matrix as you can factor upskilling or training into your goals and KPIs for the year.
Succession Planning
Even if you or your staff have no plans of leaving, it is important to have a succession plan in place for your business. You never know what might come up – illness, an unexpected event, a family emergency, or a better opportunity. Having an exit plan in place will allow you or one of your team to smoothly transition out of the business.
Planning ahead ensures you will be prepared for any eventuality. Having a clear picture of what your business is worth allows you to maximise its value when it is time to exit. The end of financial year is a great time to review this as you can incorporate your growth from the year.
As you can see, the end of financial year is WAY more than just analysing your profits. You need to examine your business as a whole and really focus on all aspects. If you are stuck on any part of your planning for this coming year, then don't hesitate to get in touch with us here at Spice HR and we can help you nail your skills matrix, implement your succession plan, or devise the best KPIs for your business.