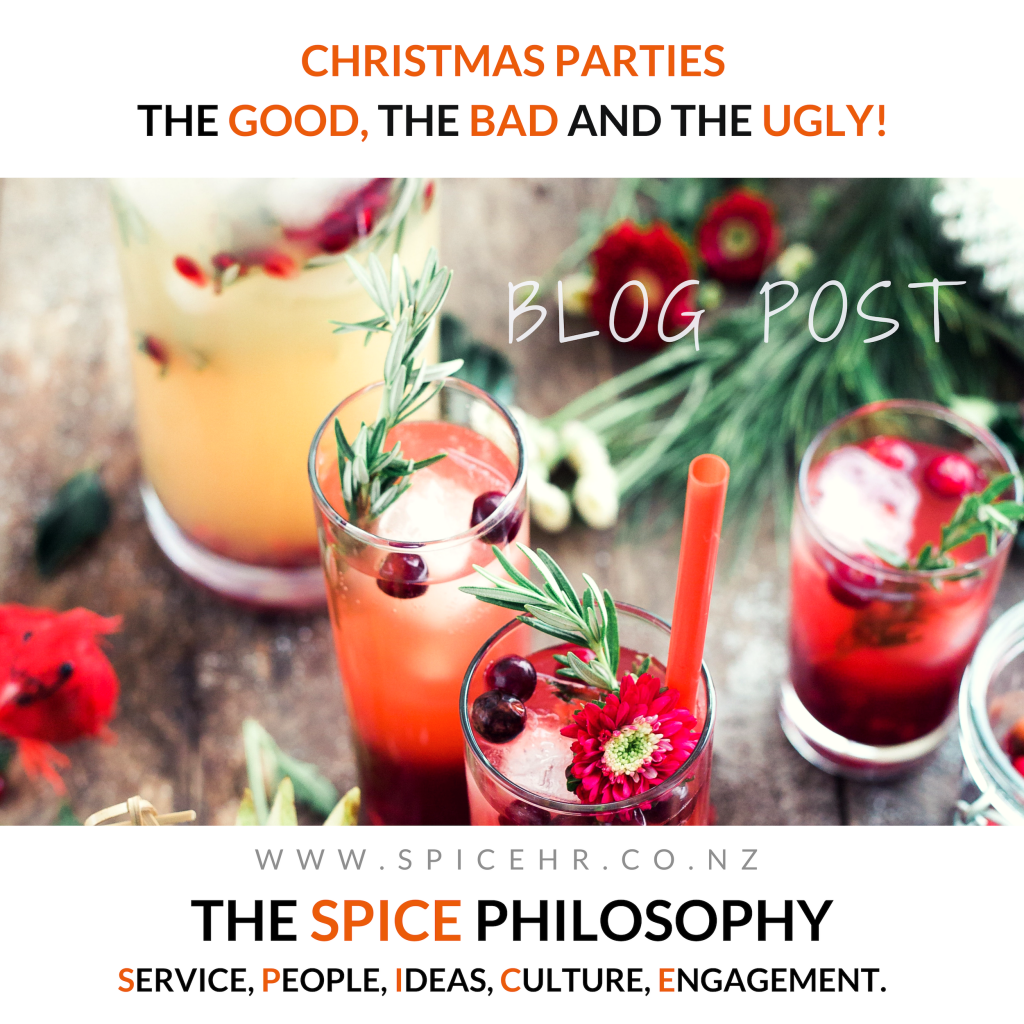 Love them or hate them, work Christmas parties are an important part of the end of year festivities. Often, they turn out to be some of the most memorable occasions of the year. Though not always for the right reasons. Office parties are infamous – both in movies and real life – for being the scene of scandals and hijinks that turn into office gossip well into the new year.
They don't have to be that way. There are many options for end of year celebrations that don't result in hangovers and photocopying random body parts!
An office party is a great occasion to relax a little, give thanks to your team for a great year and relate to one another as people, not just colleagues. It doesn't have to get messy or downright damaging. Approached correctly and planned well, everyone can enjoy a work Christmas party with just the right amount of spice!
Let's dive right in and holler at the good, the bad and the ugly side of work Christmas parties!
Christmas Parties – The Good, The Bad, And The Ugly
The Good
Don't underestimate the importance of hosting an end of year gathering for your team, even if it is just a beach-side BBQ or a bowling night.
A Christmas party is the perfect way to celebrate and acknowledge the year of hard work that has been put in by every employee. It wraps the year up on a positive note and motivates staff to bigger and better achievements for the coming year!
But it is not just about a celebration. Giving your team a chance to socially mingle out of the office environment helps to build strong team relationships. It gives managers a chance to see their employees in a different light, and shows employees that their managers are real people too.
To keep it a positive experience, plan a celebration that the majority of your team will enjoy. Get creative about what you could do – painting artwork, rock climbing, a city scavenger hunt, an exotic cuisine, or even an escape room. Keep in mind the capabilities of your team members, you don't want to choose something that will isolate certain people.
Recognition, rewards, and the chance for some fun will build staff engagement, loyalty and create a fantastic work culture.
The Bad
As much as you want to be all about fun and positivity, there is no denying that work parties can be dangerous territory. The mixture of alcohol and the chance to drop some of those rigid office personas may come with some unwanted side effects.
In advance of any festivities, make it clear to your team that the same standards of behaviour are expected at office functions as within the workplace.
It's important to remind your employees ahead of time that sexual harassment, bullying, discrimination, drugs, and health and safety policies are still in place and they need to keep these things in mind. In fact, it may be a great idea to do some refresher training on some of these issues before the silly season hits.
At the same time, set everyone up for success. If you are serving alcohol, make sure consumption is closely monitored and provide healthy and hearty food to soak it all up. Make sure you provide non-alcoholic options and lots of water to keep things under control.
Arrange for transport options or encourage carpooling with a sober driver on the day of the event. Be a responsible host, as you would with any party.
The Ugly
With the correct planning and foresight, it doesn't have to get ugly! When planning your Christmas party, put some thought into the kind of team you have, the culture within the team, and what event is best suited to encourage team building for a great night out – without any nasty hangovers of any kind.
If things do start to get out of hand, ensure any undesirable behaviour is dealt with swiftly and appropriately. It is also really important to follow up with any problem team members when you are back to work after the event. Take any disciplinary measures required. Just because it is a Christmas party, it doesn't mean there is a free pass for rule breaking!
One final spicey thought… don't forget to add one or two classic Spice Girls tracks to your dance playlist – we guarantee there are a few closet fans who will love it, or at the very least, people can bond while complaining about the music!
If you have any concerns about the HR aspect of planning your end of year function, then don't hesitate to get in touch with us here at Spice HR. We are happy to help you nail the red tape side of things!